Halloween Hearing Safety Tips
Halloween is a holiday celebrated by everyone. Whether you are a toddler walking around trick-or-treating for the very first time or you are watching your grandchildren get dressed in spooky costumes, Halloween is a fun celebration shared with friends and family. Halloween is just a few short weeks away, and you may already see neighbors decorating their yards with huge, inflatable ghosts. Halloween night you will see groups of children, teenagers, and even adults dressed as their favorite characters, witches, zombies, and princesses. It is a holiday beloved by many.
When celebrating Halloween—whether you have a hearing impairment or not—you must keep several safety tips in mind. Trick-or-treating in the dark can not only make it more difficult to see certain things but also to hear your surroundings. Many houses play spooky music, and there are many distractions while walking around your neighborhood. We have put together a list of things to be aware of so you can have a safe, healthy, and fun time on Halloween. Keep these tips in mind so that the only thing you will have to worry about on Halloween is getting as much fun-size candy as you can carry!
Protect Your Hearing from Excessive Noise
Many people enjoy celebrating with friends and family at Halloween parties, and often at these parties, the noise level reaches the maximum. At least 15 percent of people between the ages of 15 and 65 will experience noise-induced hearing loss from activities such as concerts, loud music at parties or clubs, or sports events. At Halloween parties, DJs increase the volume to get the crowd of people excited, dancing, and having fun. Listening to music for more than 15 minutes at 100 decibels or higher is very harmful to your hearing.
If you are hosting a Halloween party, then as a courtesy to your guests it would be considerate to turn the volume down. If you are a guest at a Halloween party and you can't control the music's volume, then occasionally you can leave the room or step outside to give your ears a break from the noise. And the day after the party, make sure you avoid caffeine (which can prevent your hearing from returning to normal after exposure to loud noise) and make sure your ears get plenty of rest.
Protect Your Hearing While Trick-or-Treating in the Dark
While walking outside during Halloween, your vision and other senses will be weaker than usual because you can't see as clearly in the dark. Wearing reflective tape on your costume will help so cars can easily see you walking. Carry a flashlight and direct it on the ground in front of you to help you avoid tripping over uneven sidewalks or pavement. If you or your child wears glasses, hearing aids, or cochlear implants, be sure they are secure, working, and that the batteries are fully charged before leaving the house. All these tips will help you have a safe and happy Halloween.
Additional Quick Safety Tips for Halloween
Use battery-operated candles instead of regular candles in jack-o-lanterns.

Children like to take shortcuts through front and back yards so they can visit more houses before going home. Make sure all cords, toys, and lawn equipment are put away, so no one gets hurt.

Keep front and backlights on so people can see well.

Always make sure young children are accompanied by an adult.

Older children should stay in groups and have a cell phone with them in case they need to reach an adult.

Stay out of the street and walk on the sidewalks to avoid cars driving around.

If your child tends to wander away from you or is traveling in a large group without you, pin your contact information to the inside of their costume.

Make sure at least a couple of people in your group wear reflective tape and carry a flashlight.

Don't cross between parked cars, because oncoming traffic won't be able to see you.

Agree on a meeting spot if you get separated from your group.

Make sure any masks or part of the costume doesn't interfere with hearing or seeing.

If a house is dark, avoid it. Only trick-or-treat at well-lit homes that have a front light on.
Do you know when your last hearing exam was? If you can't remember, then it's time you scheduled your yearly appointment with Sound Hearing Care. Our four convenient locations at Simpsonville, Greer, Travelers Rest, and Greenville make it easy for you to come to see us. Contact us today at 864-881-1663.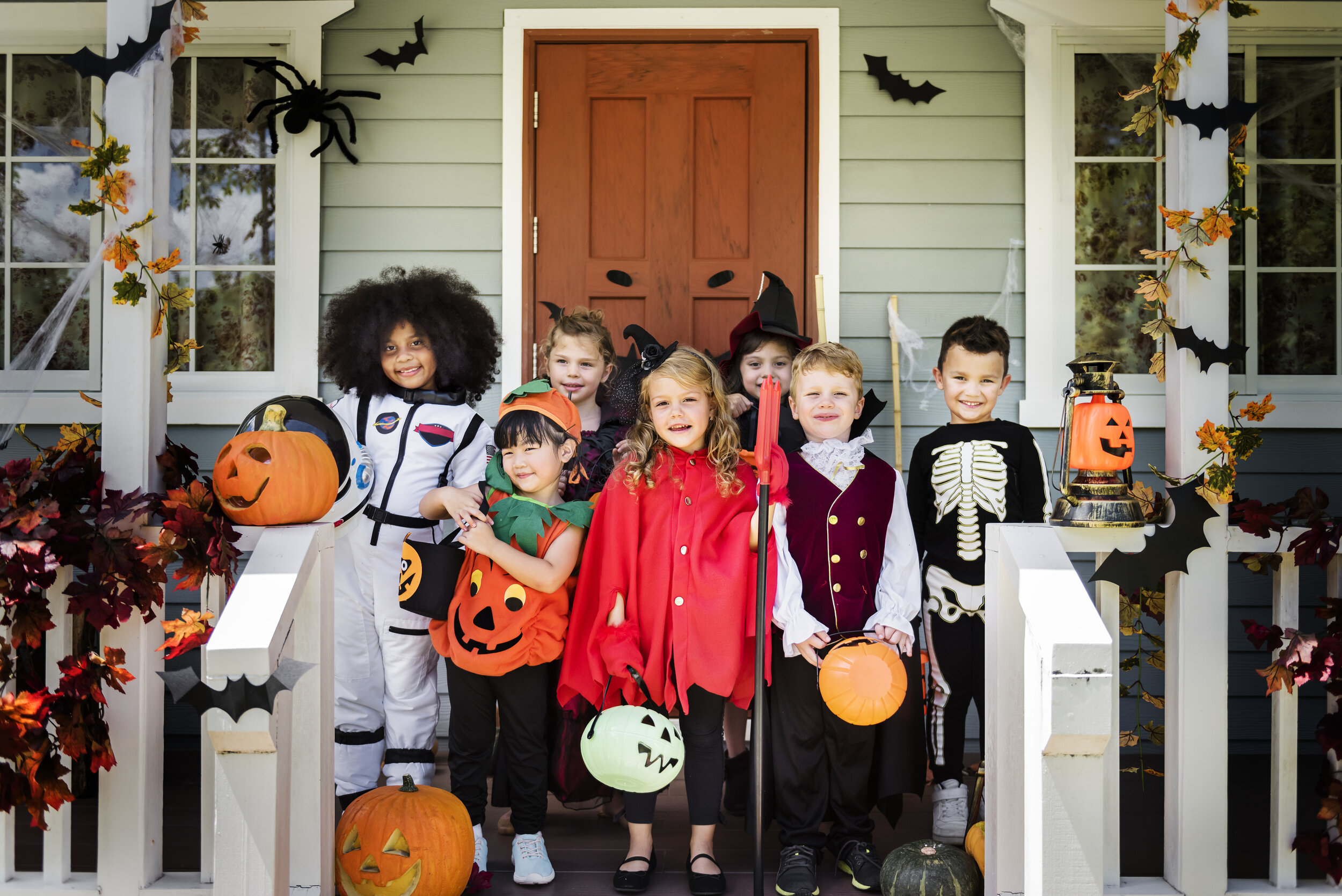 Have a Safe and Happy Halloween!
Interested in more hearing related articles?